Create General Invoice
---
Step 1: From the options, click General Invoice.
Step 2: A window for adding details related to the invoice is displayed. Fill in the following details.
Choose whether you want to create a Client Invoice or a Partner Invoice. Here, the Client Invoice is selected.
Select Client and Service from the list, and click Create Invoice. The currency used for creating invoices is shown on the bottom right.

Note: If you select Partner Invoice, you will be given an option to select the Partner.
Step 3: You will then be led to creating invoice page. Steps involved in creating a Client General Invoice are pointed below.
A brief client detail will be provided, including the service they are enrolled in.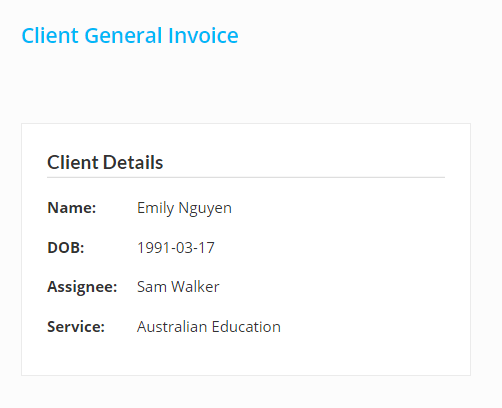 On the right, select the Invoice Date (the date on which invoice is created) & Invoice Due Date (due date for invoice)

On Description, add details related to the invoice, select Income Type (Income and Payable), add Amount, and select Tax Code that is applicable. (Tax Amount and Total Amount is automatically calculated.)


If you have to add more details to the invoice, click Add New Line and a row for adding more details will be displayed.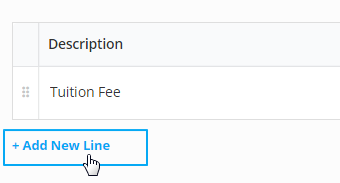 An overview of the amount involved in creating the invoice is displayed.
Tax Amount will be calculated from the applied Tax Code and added to Total Amount.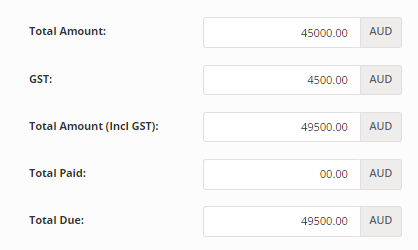 On Payment details, tick the checkbox Mark this invoice as paid is to mark this invoice as paid. An amount will be copied automatically in the fields as you tick the checkbox. Select Date and choose the Payment Type (Check, Cash, Credit Card).

Add any Notes and Attachments if needed.

On Income Sharing, you can share income with another partner, it can be either sub-agents or other branches. Select the branch or subagent then add Amount and select Tax Code

To check the preview, click Preview and Print or click Save and Send to save a copy of the created invoice and send it to the Client or just click Save for saving the created invoice.

Categories: