How to add a single Partner?
---
tep 1 - To add a Partner in Agentcis, go to the Partners menu.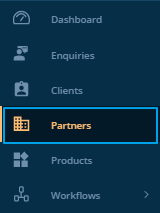 Step 2 - Click on the Add button and Add Partner form will open. (Fields with "*" are mandatory)
Step 3 - Add your Partner Name, Operating Name (if the name is different than Partner Name), and select Workflow.
Step 4 - Add Street Address, City, State, Postcode, and select Country from the list.

Step 5 - Insert contact details including Phone Number, Email, Fax, and Website.

Step 6 - Insert Branch Details. You can add multiple Branches and Save.
Categories:
Tags: