How to update Commissions in Product Fee of the Client Application page?
---
Change the commission percentage when you require directly from client's application page. To do so follow the given steps.
Step 1 - Go to the client's application page where you require to update the commission percentage.

Step 2 - Click on the edit product fee section from the application detail page.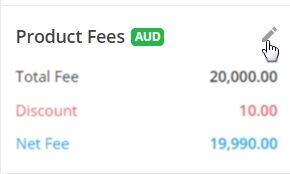 Step 3 - On the Edit Fee Option pop-up, you will the "Commission %" field when you can make necessary changes.

Step 4 - Save the changes by clicking on Update button

Categories:
Tags: