Upgrading or Downgrading Subscription Plan
---
Changing Subscription
By upgrading your subscription to either standard or premium, you can get access to more features than available on the basic plan. You can compare the features of each of the plans by clicking here.
Note: If you are on a monthly plan you can upgrade or downgrade. However, if you are on an annual plan you can only upgrade your current subscription and cannot revert to the monthly plan until your next billing cycle.
To change your subscription plan, follow the steps below.
Step 1: Go to the settings page from the settings menu.

Step 2: Select the Subscription and Billing settings option.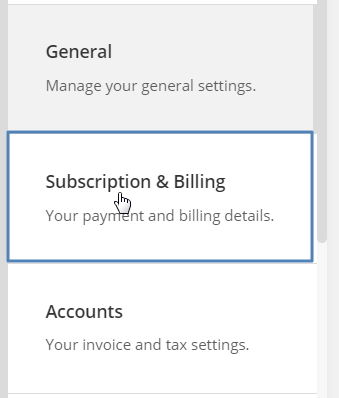 Step 3: You will land on the Subscription and Billing Tab. Click on the Subscription
Step 4: Click on the Upgrade Plan button.
Step 5: Choose your plan. If you want to change billing from monthly to annually you can click on the "Bill annually" option.
Step 6: You can also edit the users and add-ons as per your requirements.
Step 7: Click on the Review button.
Step 8: The details about your subscription will be displayed and you can proceed to checkout.
Note: $7 USD is charged for every 50 GB of additional storage and $7 USD for every 1000 email storage additions.
Step 9: Add your Billing Address and fill in the mandatory fields.